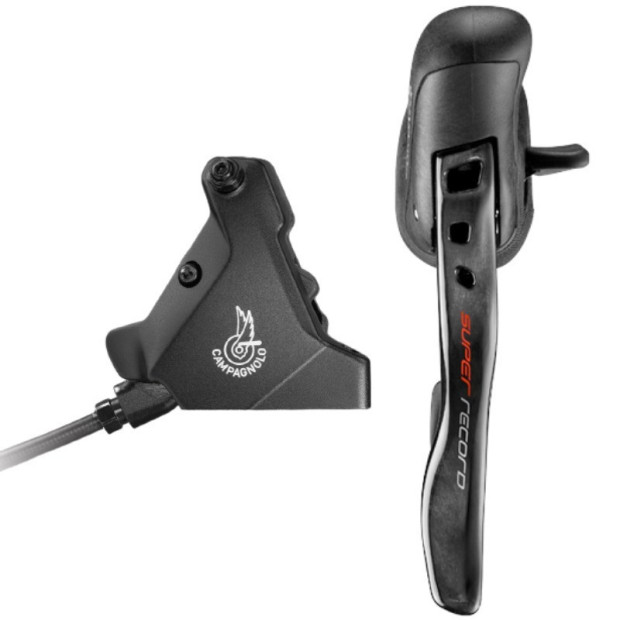 Description
The Campagnolo Super Record 12-speed hydraulic rear disc brake will give you precise, powerful and progressive braking.
The caliper ensures powerful, adjustable and reliable braking in all weather conditions, thanks to the 22 mm diameter pistons. The pad return is now optimised to ensure no friction when the brake lever is released. A special metal plate placed between the pad and the piston dampens vibrations during braking. The various Campagnolo brake calipers have been designed to be fitted in combination with the disc chosen by the user to ensure high performance at all times: in fact, it is possible to choose between a caliper with a 140 mm disc (reserved for cyclists weighing no more than 82 kg) or a 160 mm diameter disc. Particular attention has also been paid to facilitate maintenance and assembly operations: the pads have a wear indicator and their replacement is facilitated by the absence of physical return springs. The entry of the disc into the caliper has been carefully designed to facilitate and accelerate wheel change.
The Super Record Ergopower shift and brake lever is more ergonomic, more precise, more powerful and easier to maintain. It offers an ergonomic, comfortable and safe support and grip, thanks to the Vari-Cushion technology; features that are essential for those who spend many hours in the saddle. It combines technology and experience, starting with the "One Lever - One Action" function, which assigns a single function to each lever to avoid gear shifting errors during moments of fatigue or the most intense riding. It also features Ultra-Shift technology, which allows you to change up to 3 Sprocket gears at a time on the way up and 5 on the way down. This function makes it possible to maintain the pedalling rhythm even in the event of sudden changes in slope or rhythm with a speed and fluidity of action that is as useful as it is surprising.
In addition, the lever adjustment, which allows the brake lever to be moved closer to the bottom bracket to make it easier for cyclists with small hands, and the AMS Adjustment, which allows the user to select two different brake power modulation settings, are very useful functions. "Short" for direct braking or "Long" to allow a little more modulation.
The Super Record Disc Brake levers have been designed with a double curve to improve grip and are lightened with two slots in addition to the dedicated reach adjustment slot.

Lever features
Convenient grip: The grips provide a solid and secure grip when pedalling in a dancer or leaning high on the handlebars.
Quick gear change: The immediate engagement of the gear change allows the front derailleurs to be operated with minimal effort and with any type of support on the handlebars.
Multiple action: A sudden climb, an unexpected increase in pace: finding the right gear immediately lasts only a moment thanks to the multiple action of the handles.
Ergonomics: The contoured support and adjustable reach allow all cyclists to use these grips, regardless of the size of their hands and fingers.


Caliper Features
Standard Flat Mount: Full compatibility with flat-mount frames.
22 mm phenolic resin piston: Braking power and thermal insulation
Piston-Caliper Linkage: Piston return action is now optimized for quick pad return to position ensuring an overall pad-to-disc gap of 0.4-0.8mm without risk of accidental contact
Interchangeable spare parts: Pads, cylinder, screws and bolts are identical on each caliper: Full compatibility and spare parts optimisation resulting in convenient maintenance and fewer components to keep in stock
Wear Indicator: Makes it easy to know when pads need to be replaced
Chamfered pads: Facilitate disc entry and quick wheel change
Anti-vibration plate: Optimal braking without vibrations
Two fixing screws: Quick installation and maintenance
Position: Rear
Dimensions: 160 / 140 mm
Weight: 118 g (140 mm / pads included)
Customer reviews
No customer reviews for the moment.
Internet users also chose
Our experts answer you
Be the first to ask a question about this product!
Question about the product