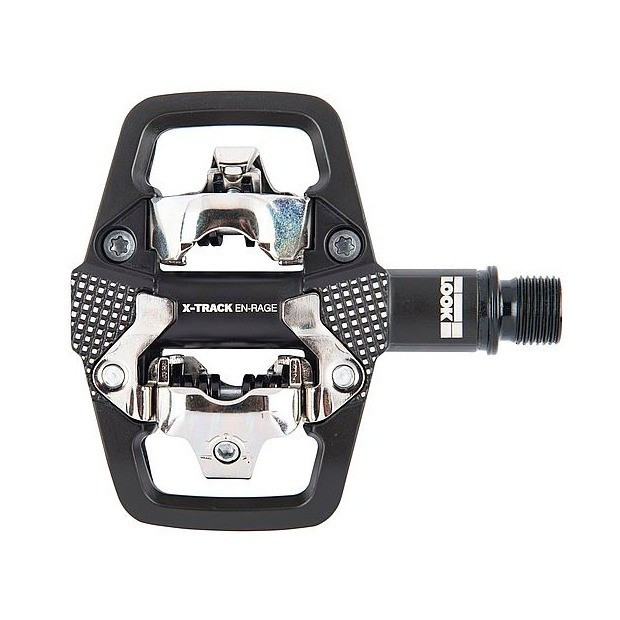 Description
The X-TRACK EN-RAGE, designed for the TRAIL / ENDURO discipline completes our off-road range of pedals by offering a wider pedal body. With more contact area it offers added stability, and construction to withstand the hardest of knocks.
HIGHLIGHTS
TRAIL / ENDURO DEDICATED DESIGN
DESIGNED FOR AGGRESSIVE RIDING STYLES
EXTRA CONTACT SURFACE AND GRIP AVAILABLE
INTUITIVE POSITIONING / EASY TO ENGAGE
PEDALS DESIGNED FOR YOUR DISCIPLINE
The X-TRACK EN-RAGE range comes in two versions:
The X-TRACK EN-RAGE PLUS pedal body is made of forged aluminium. It has a 67 mm wide platform for a 664 mm² of contact surface. This provides improved stability and support, especially at high speed. The pins and ribbed pedal body ensure good grip in all circumstances, even when not clipped in. The X-TRACK EN-RAGE PLUS model is perfectly suited to the requirements of the ENDURO rider.
The X-TRACK EN-RAGE pedal, again made of aluminium, but has a narrower body. It is 63 mm wide for 554 mm² of contact surface area, making it a lighter pedal. This narrower profile makes it more at home in narrow and steep single track. While still ENDURO capable, it is mainly intended as a TRAIL pedal.
LATERAL CONTACT SUPPORT
Lateral contact support guides your foot in finding your pedal and provides you a point of contact even if you have not yet engaged the cleat. This wide contact area prevents your foot from sliding on the pedal body and offers consistent and reassuring support.
MECHANISM GEOMETRY
The mechanism works regardless of external conditions (in the mud, forces are significantly different from those encountered when dry), more space allows for the shedding of various foreign matter (mud, sand…). These zones give the user a constant and stable feeling of being securely clip-ped in, in all conditions
ADJUSTABLE TENSION
An adjustable tension screw al-lows you to fine-tune the entry/release resistance to your perso-nal skill level.
TWO CLEAT MODELS OPTIONS
Two cleat models are available for the X-TRACK RACE and X-TRACK EN-RAGE range. The X-TRACK CLEAT is a standard version which allows a standard lateral clip out.
The X-TRACK EASY CLEAT offers a larger clip out range with a lateral and angled release possibilities. By choosing the right cleat you can adapt your pedal performance to your needs and practice.
USE : XC Competition and Leisure
BODY : Aluminium
SPINDLE : Chromoly
FLOAT : 6°
PLATFORM AREA : 545 mm²
PLATFORM WIDTH : 63 mm
STACK HEIGHT CLEATS : 16,8 mm ( 10,7 6,1 mm )
WEIGHT PEDAL : 210 gr
WEIGHT PAIR CLEATS : 470 gr
GUARANTY : 2 years
Features
Brand

Look

Gravel Pedals

No

Fixing

Type SHimano SPD

MTB / Trekking Pedal

yes

Dual click

yes

Dual choice

yes

Road Pedal

no

Reference

85066

EAN13

3611720144904

Manufacturer reference

00018225
No customer reviews for the moment.
Internet users also chose
Our experts answer you
bonjour,

Ces pédales sont conçu pour un usage polyvalent rando/all mountain ou encore e-bike,

Cordialement
Xxcycle
Question about the product