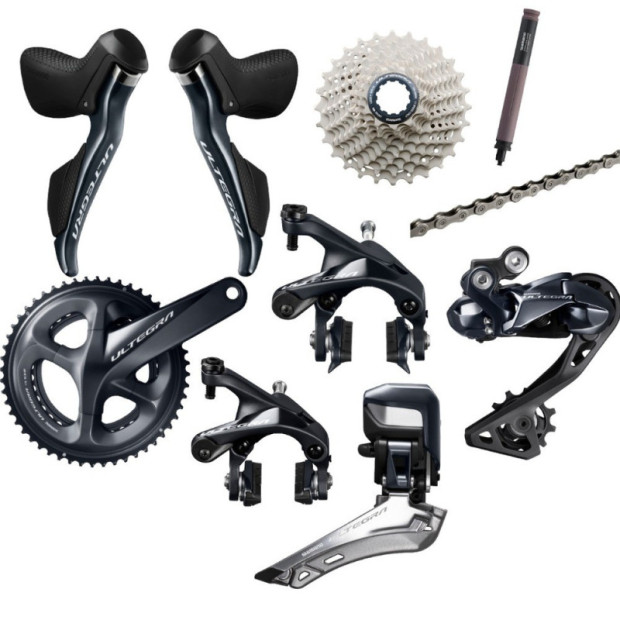 Shimano Ultegra Di2 R8050 Groupset Rim Brakes 2x11S 52/36 11/28
?
Our experts answer you
No queries yet, leave the first!
Description
The Shimano Ultegra Di2 R8050 groupset will take your bike to another dimension. The Di2 drivetrain offers smooth and very precise shifting, guaranteeing top level performance. This groupset is designed for rim brake bikes.

Package content
1 11v FC-R8000 52/36D 170mm IFCR8000CX26 crankset
1 11v 11-28 CS-R8000 Ultegra cassette ICSR800011128
1 Quick Link 116 Link Chain CN-HG701 11-Speed ICNHG70111116Q
1 Vit 2x11v ST-R8050 Ultegra Di2 shifters ISTR8050PA
1 x 11 Speed Rear Derailleur DI2 SS RD-R8050 Ultegra Di2 IRDR8050SS
1 Double Front Derailleur DI2 FD-R8050 A Braser IFDR8050F
1 Internal Battery Type BT-DN110 With Recycling Logo IBTDN110A6
1 Battery Charger SM-BCR2 For Di2 Battery ISMBCR2
1 DI2 Stem Connection Box SM-EW90-A 3 Ports ISMEW90A
1 Internal Connection Box DI2 SM-JC41 4 Ports ISMJC41
1 Electrical Cable 350mm Black EW-SD50 E-Tube For DI2 IEWSD50L35
1 Electrical Cable 300mm Black EW-SD50 E-Tube For DI2 IEWSD50L30
2 x 150mm Black EW-SD50 E-Tube Power Cables for DI2 IEWSD50L15
1 BR-R8000 Ultegra R55C4 Front Brake Caliper IBRR8000AF82X
1 Brake Caliper Rear BR-R8000 Ultegra R55C4 IBRR8000AR82A
Customer reviews
No customer reviews for the moment.
Our experts answer you
Be the first to ask a question about this product!
Question about the product