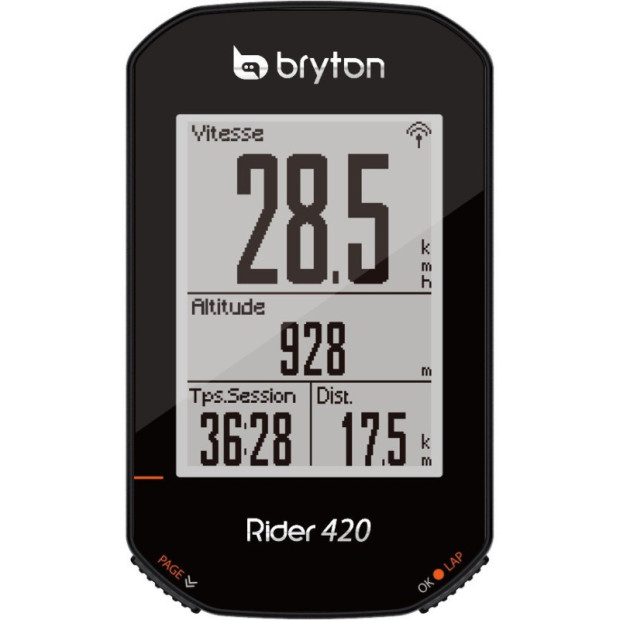 Description
The Bryton 420 bike GPS has been designed with simplicity and convenience in mind. It features a high quality 2.3-inch optical display that provides a clear, crisp view from all angles for the most enjoyable cycling experience. With its track following function and turn-by-turn instructions, exploring unknown areas is no problem at all. GNSS (Global Navigation Satellite Systems) integration allows the Rider 420 to perform faster satellite tracking for more accurate positioning and recording. It also offers maximum compatibility by working perfectly with ANT Plus and BLE sensors. In summary, the Rider 420 is a simple and accurate GPS bike computer that is easy to use right out of the box.
Thanks to the large 2.3-inch black and white screen, the Rider 420 offers the best possible viewing experience. The optically bonded, high-quality screen allows clear and sharp viewing from all angles and without interference in any environment. By simply looking at the page, which can hold up to 8 data items, it is possible to fully understand your performance in real time.
Unleash your spirit of adventure with the Tracking function of the Rider 420! It is now possible to plan and create routes via the Bryton Active application, import routes (.gpx) from other platforms into Bryton Active and automatically synchronise routes from Strava, Komoot and Ride with GPS to make Rider 420 your personal guide. With turn-by-turn navigation instructions, the unit provides information with road names, distance and directions before each turn.
Motivation with POI info / Summits
Knowing the distance to your next stop is always motivating and useful. After setting up POI and summit information, you can check the distance to your next POI or summit in Tracking mode, allowing you to make the best decisions based on your status and stay motivated along the way.
The Rider 420 GPS bike computer integrates 5 different satellite systems: GPS, Glonass(Russia), BDS(China), Galileo(Europe) and QZSS(Japan), allowing for a quicker start and much more reliable satellite coverage in all environments, especially when you are surrounded by buildings/trees, or even in the mountains.
The Rider 420 provides comprehensive data to analyse the performance of your ride. It offers up to 77 functions including Duration, Speed, Distance, Calories, Cadence, Altitude, Power, FC, etc.
If you like long rides, the Rider 420 is the perfect choice for you. It offers up to 35 hours of battery life and allows charging by external battery while recording.
Pedal support with power sensor
The Rider 420 is also intended for cyclists who use pedals with a power sensor. Simply enter the pedal length for calibration to receive accurate power values generated by the pedal power sensor.
No more worrying about missing important calls, emails or text messages during training. The Rider 420 alerts you when you receive calls, emails or SMS messages after pairing with your smartphone via BLE.
Features
Dimensions: 49.9x83.9x16.9 mm
Weight: 67g
Navigation system: GPS / Glonass / Galileo / Beidou / QZSS
Course Advanced follow-up
Autonomy: 35 hours
Display size: 2.3 inches
Connectivity: ANT Plus / BLE / Bluetooth Smart
Temperatures supported : -10°C / 60°C
In the box
Rider 420
USB cable
Standard bike rack
Strap
User's guide
Offset mount sold separately
Customer reviews
No customer reviews for the moment.
Internet users also chose
Our experts answer you
Be the first to ask a question about this product!
Question about the product