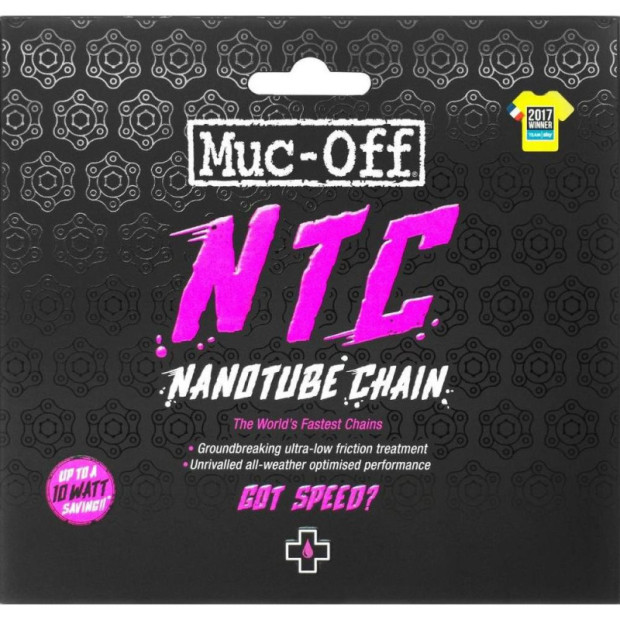 Description
Muc-Off NTC chains save up to 10 watts* compared to other treated chains on the market. They are the result of thousands of hours of research and development in transmission optimization.
To create this incredible product, we cleaned a Shimano Dura-Ace chain with ultrasound and then treated it with a patented nanotube formula. Once in the customer's hands, it only needs to be rotated for 4 to 6 hours to ensure that it is perfectly lubricated.
What makes the NTC special is its ability to save power constantly over a long period of time and in all weathers. Other chains can claim to be the fastest, but what they do not say is for how long and under what conditions.
The fact that Shimano UFO Ceramic Speed chains have a short lifespan was a fundamental discovery of the Muc-Off Development sector. While the capacities of this product are quite good in the first few minutes, about 4.5 - 5 watts of power saved, these performances deteriorate quickly after only 18 minutes!
Compared to the latest Ceramic Speed treatment of Shimano UFO chains, the NTC continues to be more efficient: more than 10 watts of savings after 4 hours of use. In terms of performance, this means that on a 180 km Ironman bike race, the NTC provides a 4.8 km gain; calculation based on an average time of 6 hours and 25 minutes.
In contrast to other optimized chains on the market, NTCs maintain their level of performance under all operating conditions.
Specifications:
Incredibly low friction.
World-class performance.
Usable by ALL times.
More durable than wax-optimized chains.
Each chain is treated by hand, with a unique Muc-Off process to maximize performance.
Available in Sram or Shimano version
Features
Brand

Muc-Off

Gear

11 s

Reference

97735

EAN13

5037835417005

Manufacturer reference

MUCHNTCSH
Customer reviews
No customer reviews for the moment.
Internet users also chose
Our experts answer you
Be the first to ask a question about this product!
Question about the product